John Galliano's Spring 2009 line showcased bright colours, bonnet-like hats, and wigs hailing back to the 19th and 20th centuries, accompanied by heavy blush and lipstick. He also included bright red militaristic tunics and matching hats a la Royal Guard of England.
Guard at Winsdor Castle
Opening look at John Galliano // Spring 2009
Obviously where he drew his inspiration from. His other looks - the more vibrant portion of the show - seemed to be based strongly off of Victorian England, with the wigs and hats. (The clothes themselves, not so much - more like a garden, or something).
Digressing, the next few photos show 18th-century portraits - look at the hair & makeup.
…and the collection: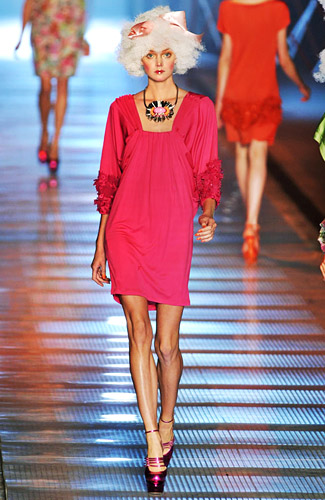 All, Galliano // Spring 2009
He also threw a few Victorian-esque hats in there as well:
Galliano // Spring 2009
It wasn't just at Galliano, though; other designers have showcased the ages of England and Britain past, this season and previously.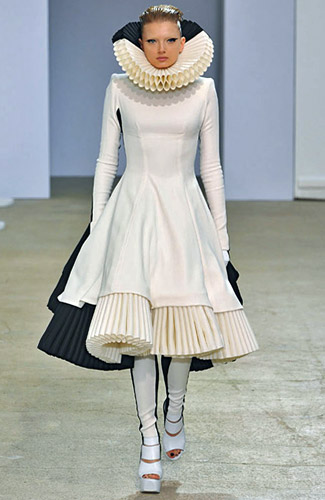 Gareth Pugh // Spring 2009 : Victorian collar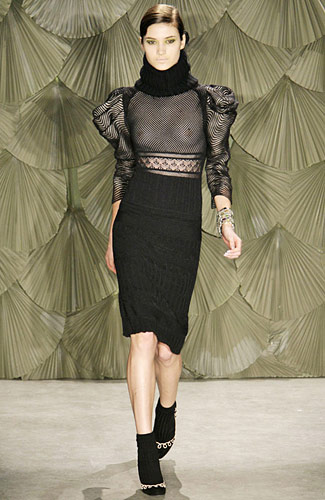 Puffy Victorian sleeves at Catherine Malandrino // Fall 2008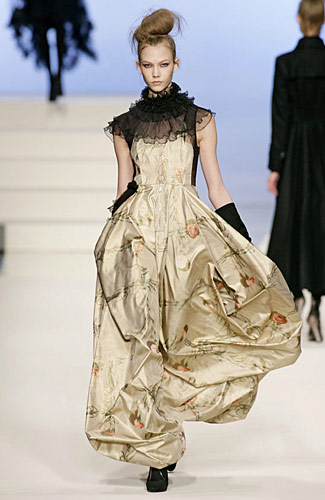 Sportmax // Fall 2008 [model: Karlie Kloss. more on her later]
Jenny Packham // Fall 2008
So as you can see, it's a growing trend - not too noticible, I'll admit, but it's there. I'm just itching to make myself a Victorian collar…
Martin Margiela had that huge collar going, somewhat reminiscent of the V. collar:
Martin Margiela // Fall 2008
Eh, not so much. But still.
Ok, wrapping it up avec notre equipement du jour:
Giles Deacon // Spring 2009
Auf wiedersehen,
~ r