I'm watching the Balls while studying for health… much more interested in the Obamas, of course. There hasn't been this much interest in the First Lady since the Jackie O. days… and you can see why!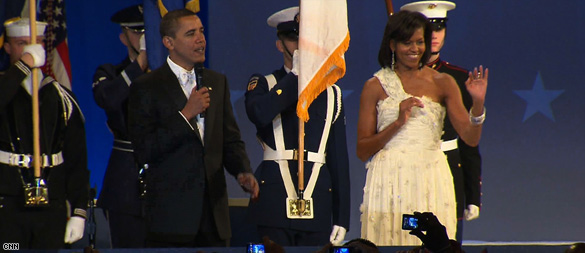 The PRESIDENT (AHHHHH!!! WOOOO!!! haha sorry.) and the First Lady at the Home States Inaugural Ball. Michelle wears a Jason Wu dress.
AHHHHHHHHHHH
Haha sorry, but I am just so ecstatic you can't believe it.
During their dance, they laughed, joked, smiled, and… well, acted like a normal couple.
A normal couple who had to dance to a non-dancing-conducive song in front of a several-thousand-strong crowd on a well-lit stage, surrounded by guards & flags.
Yeah, normal. But !!!!!!!!!!!!!!!!!!!!!!!!!!!!!!!!!!!!!!!!!!!!!
Haha ok, I'm going to stop now. Really.
For now.
~ r