World War I really was the turning point for women's fashion. Coco Chanel & Paul Poiret pioneered and took fashion to the next level; Poiret with his exotic designs, Chanel with her fresh outlook for women's fashion and relating it to their progress socially. The Edwardian era (named for King Edward VII of England), preceded by the Victorian era, symbolized change for women - more freedom, more rights, being recognized as people more. The corset was on its last legs as WWI took off in 1914; by the end of the war, it was all but gone. A much looser, narrower, simpler look was in. Women needed practical clothes, not hats as wide as doorways and huge, bustling skirts with metal hoops inside. Black, grey, and other neutrals were apparent (there were lots of widows in mourning); Poiret did tend to use very bright colours, however. Women wanted change.
First let's look at how women dressed in the Victorian era.
Designed by Charles Frederick Worth for Elisabeth of Austria
Victorian wedding gown (right)
Corsets? Who, us? Never!
How often have you (assuming you're female…) wished you could wear a corset, even just to see how it feels & looks? I have, many times. *sigh* If only they weren't hazardous to your health…
Hat, corset, fur bag, parasol - all very fine and Victorian. (I've actually been hunting around for a parasol…)
Ok, enough on the Victorian era. Moving on to the Edwardian era, and WWI…
- skirts became much smaller, narrower, and simpler
- hats shrank (aka, had less feather/flowering/foliage, etc)
- the corset was less and less commonly used, greatly due to Poiret's influence (For a quick corset overview, here)
- pants were first introduced, and went (sort of) mainstream due to Chanel's activewear apparel
A Poiret sketch
A Poiret evening gown, 1913
Poiret coat, 1911
A Poiret sketch
Two Poiret gowns; see the turbans?
A Poiret gown. I think it's sort of foreshadowing the flapper dresses of the 30s, don't you?
The iconic Poiret turban. Poiret drew inspiration from the Russian ballets and Mid-eastern culture (hence, the feathers, turbans, fur, trim, and beading…)
Coco Chanel. Her name was - and still is - synonymous with glamour, classic style, and beauty. She entered the fashion world starting with hats, but quickly moved on to bigger things (clothes, shoes, bags, and everything else under the stylish sun). She is primarily responsible for the introduction of womens' pants, even if they were still worn under skirts.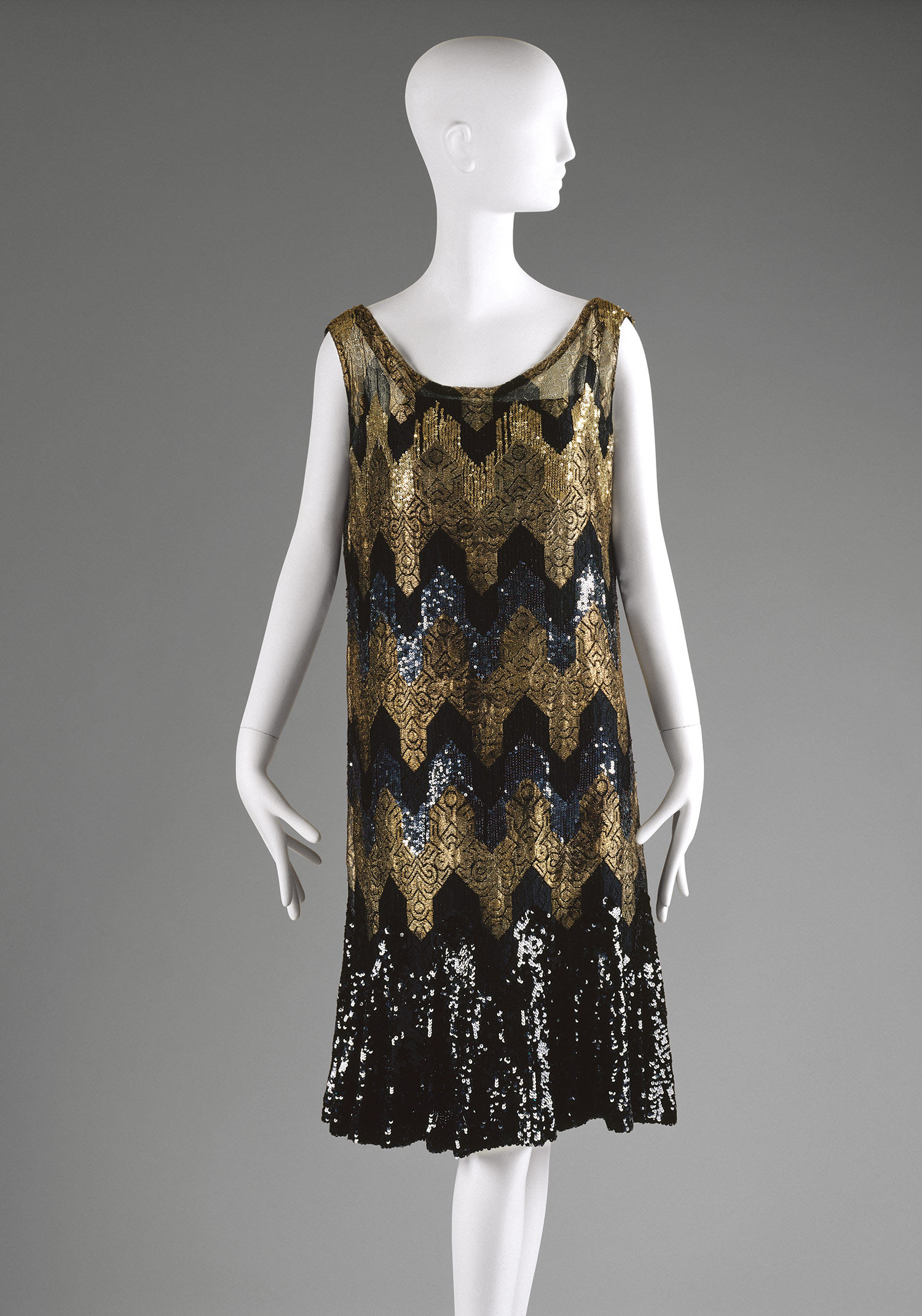 Chanel, circa 1926. So a little late, but no less amazing.
Another vintage early 20s Chanel gown. (Also notice that the model isn't stick-thin.)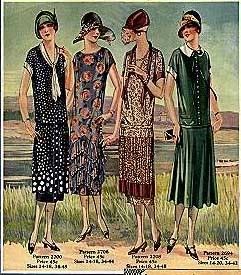 Early Chanel.
Something I've often thought about is, what would these people think if they saw women today? Especially in the summer… sheer, low thanks tops and denim cutoffs about 2 inches long; bikinis instead of this…
…or this…
Really? Shoes and taffeta for swimming? I'm surprised they could stay afloat.
So yeah. The WWI era was particularly important for advancements in womens' roles in society. The changing styles helped them to quickly adapt to the Modern Society.
Look(s) du jour: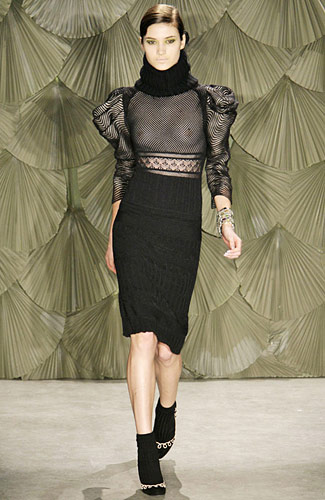 Catherine Malandrino // Fall 2008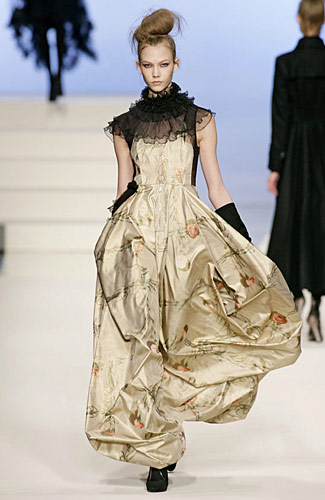 Sportmax // Fall 2008 (Did I have this photo in here already? Karlie Kloss? Hmm, maybe…)
Christian Lacroix // Fall 2008
Alexander McQueen // Fall 2007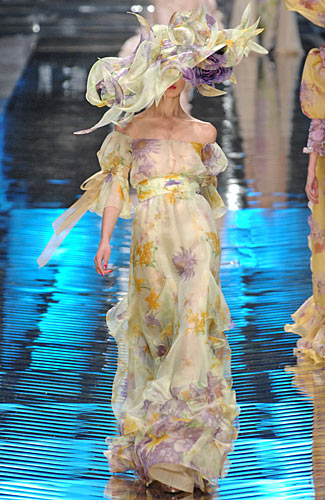 Valentino // Spring 2008
до свидания!
~ r
ps - that's russian for "goodbye"