Milan, Paris, Moscow, Stockholm... those are the cities you hear about all the time, street-style-wise. Not so much Berlin. Berlin street style is interesting; it's sort of a mix of classic European, Stockholm trend & beauty, and - of course - the cold weather. You see a lot of black & layers in winter (comforting to know that it is, in fact, cold somewhere - these days, it seems that all I see on the street style sites are in places like Manila and other year-round Good Weather places. You know the ones I'm talking about), but they take black to a whole new level, pairing a black trench, hat, shoes and pants with outrageous bags and other accessories.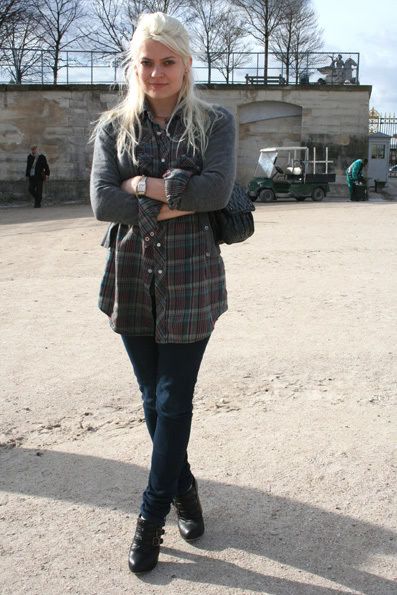 Love her pants!
Electric blue... love, love, LOVE this colour. Actually, one of my favorite Kristian Aadnevik dresses is electric blue, I was going to attempt to replicate it...
Kristian Aadnevik // Fall 2008
(OK, I'm totally doing a post on gorgeous gowns sometime soon... I just found a bunch more of his, and misc. others, que je'ladore!)
Mais je digress...
Ahhh, c'est tres, tres romantique, non? Il me fait contente :)
Ah, the bit of outrageousness in Berlin...
...and for an extra bit of style to your day, two more KA gowns:
Both Kristian Aadnevik // Fall 2007
~ r